Discussion Starter
·
#1
·
Many of you have the annoying brake pedal squeek.
Fellow members have reported that Valvoline Full Synthetic brake fluid fixed the noise.
GM also released a new Brake Fluid a few months ago.
I was waiting until I tried it to give my opinion.
========================
The new fluid has significant improvements in lubricity to eliminate previously known issues with master cylinder squeak/noise.
The new DOT 3 brake fluid — GM P/N 19299818 (U.S.) and GM P/N 19299819 (Canada)
Always use the new DOT 3 brake fluid when refilling or servicing the brake system. If another type of DOT 3 brake fluid (including the GM DOT 3 Delco Supreme II) is used to refill the master cylinder, it may cause a master cylinder squeak noise. If the wrong DOT 3 brake fluid is used, remove as much of the old brake fluid from the master cylinder as possible and refill with the new DOT 3 brake fluid. Depress and release the brake pedal five times to allow the new fluid to enter the system.
========================
Now that I hit the 5 yr mark/82,000 - I went ahead and bled the brakes
30 min job at most.
MedicRxDoc- posted in another thread the bleed sequence.
"The online manual has RR, LF, LR, then RF"
Remove the rubber caps from the bleeder screws.
I attach a small rubber hose to the bleeder screw- which drains into a bottle.
The procedure is straightforward.
Remove SOME fluid from the reservoir- refill with new fluid.
My wife was my assistant.
Her job was to pump brake pedal 3 times- on the 3rd- she holds down the pedal, lets me know- and I open the bleeder screw- she tells me the brake pedal is dropping- and I then close.
We repeat this several times at each wheel- until you see a change in the fluid color.
ALWAYS make sure there is plenty of fluid in the reservoir.
you DO NOT want to suck in air at the reservoir.
The fluid had a greenish tint to it.
The result.
Brake pedal has a 'tighter' feel.
Brake pedal squeek is gone.
Sorry I dont have more detailed pics-
Since brake fluid can damage auto paint- theres some shots I couldnt do without spilling/splashing fluid.
Nipples have rubber caps over them.
Remove caps to expose. Front/Rear shown.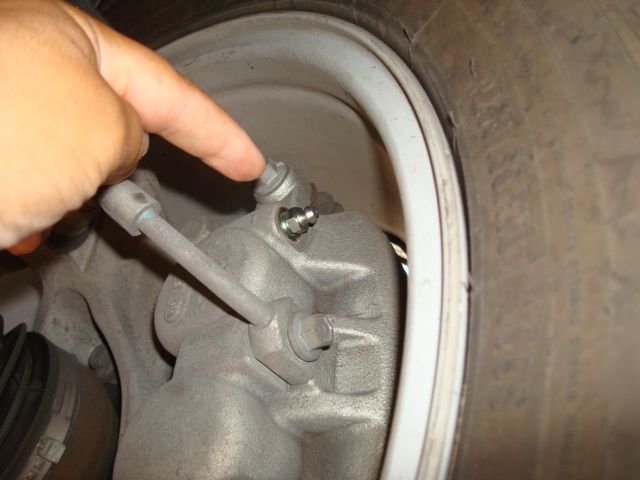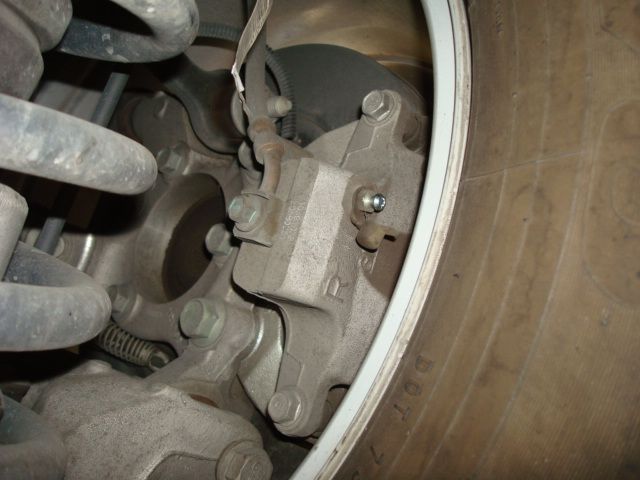 Turkey baster with a hose--
Stick the hose down the tube of the reservoir to remove some fluid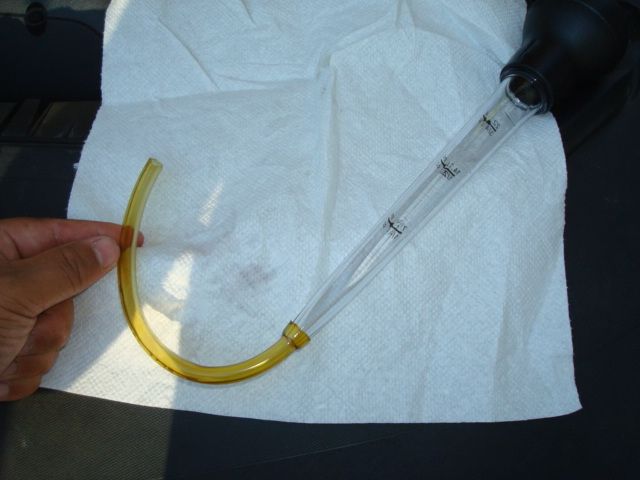 New brake fluid is clear--- like water.
What comes out