Acadia GOD!
Join Date: Oct 2009
Posts: 7,852
3700 mile roundtrip in Traverse
---
We did another family road trip in the Traverse.
about 3700 miles round trip.
now about to hit 123,000
California --> Arizona ---> New Mexico ---> Texas ----> Chihuahua ---> Durango ---> Zacatecas ---> Aguascalientes ...... and back.
2 car caravan on way there... the 2nd vehicle was my father in law and his family.
But yeah- got a traffic tix 5 min after crossing into Mexico----> CA license confiscated by Police. (would be returned when I paid fine)
Father in laws Honda began to use gas in what I thought was a high rate. CEL came on his Honda.
Grandma ended up in ER.
Uncle had a stroke.
there was a gasoline shortage in Mexico.
etc etc...
Also made some improvements to my 1995 Honda Passport while there.
The Traverse flashed its CEL light......... for 3 seconds on mile 3500 of the trip....
---------------------------------------------------------
The Ticket......
5 min into Mexico- Saturday night 7pm
Father in law makes a turn- and I accelerate to follow- so we dont get separated.
Traffic was light.
But I turned on a yellow light.
There just happened to be a transit police unit 1 lane over.
They pulled me over- officer gets out- and the unit pulls over father in law.
My officer asks where im going- where im coming from- what my occupation is.
He then tells me that in the State of Chihuahua, it is illegal to turn/go through intersection in an Amber light, and that he would give me a ticket.
Unfortunately I have to hold on to your Drivers License. You get it back when you pay the fine. I can pay the fine MONDAY morning... (remember this is Saturday night 7pm).
I said- I wont be here Monday.... how long do I have to pay the fine---
he said 15 working days.
I said, fine- Ill pay the fine when I make my return.
I asked, whats the fine?
he said- 8 x the State Minimum daily wage. (currently at $80 pesos- or $640 pesos....about $32 USD)... (thats $4 USD DAILY wage-- not hourly--- DAILY...)
So I took the ticket.
Turns out father in law- told the officer he didnt want to deal with paperwork...... and paid the fine directly to the officer..... if you know what I mean.
I timed the return trip 2 weeks later- so we would hit the border city at 7am.
I was the 1st in line at the place to pay the fine.
I paid the fine and got by license back.
Things to note---
I did look at the back of the ticket where it listed many infractions- and
it does indeed show that crossing intersection on an AMBER is illegal.
there is a box where you indicate- if something is collected from the law breaker... (License plate, Drivers License, other).
-------------------------------------------------
the 1999 Honda Passport gas usage
v6, and 22 gal tank.
traverse also has a 22 gal tank.
On the road- we used walkie talkies to keep in communication.
hed say- he needed gas- and was down to 1/4 tank.... while I was showing 5/8 ( a little past half tank)...
this happened several times.
Eventually his CEL came on.
I had my OBD scanner and scanned the vehicle..... the code was for the Oxygen sensor.... that explained the increased fuel use.
I cleared it-- and we continued.
the light came back on on the return trip (they returned on Jan 1. ahead of us).
I told him to get that changed before it damages CAT.
---------------------------------------------------------------
Medical.
We arrived on Sunday 5pm or so.....
the next morning- around 10 am- we get a call that my grandmother was taken to ER. (Major city 4 hrs away).
My mother left to be with her.
On the 5th day, I get the OK to travel to see her.
That was a waiting game..... showed up at bus depot at 830 am.. to catch 9 am bus. (Think--- Greyhound)
sorry, 9 am sold out.
sorry, 11 am sold out.
we have 1 spot at 2pm..... so I bought it. Also bought return tix..... since it appeared folks were traveling for holidays.
So I waited till 2. 4 hr trip. arrived in the big city at 630 pm.
took taxi to hospital... where I spent time with grandmother till 11 pm.
The next morning I went to see her for 1 hr- then left to catch return bus.
At 88- diagnosis was a blocked artery and I believe kidneys?
Drs said- we cant operate due to her age.
We can only give her meds and hope she improves.
She was retaining fluids- so she became swollen.
She was eventually released 12 days later.
My mother came back and enjoyed my kids for 4 more days, one reason father in law and I- did not caravan back- we extended our trip by 1 day.
Grandma is currently doing better.... good enough to be released.... but care needed.
My uncle- who was also visiting from Los Angeles--- also had a stroke.
Hes also been released-- also care needed.
those 2 events- put a damper on the trip.
But while I waited for news-- I did the repair work on the Honda.
---------------------------------------------
I bought a 1995 Honda Passport from my father in law.
We needed a truck/SUV for the ranch.
He was selling a Mexican Plated SUV- so I bought it. (it is also plated in California).
The important thing is it had recently passed CA emissions- so- it pointed to the engine being good.
recently had a new/rebuilt trans put in.
Father in law had bought a replacement tailgate- junkyard. that matched the color- as the one on there was slightly tweaked.
Bumper had a slight tweak in it.
it was missing wheel caps.
Speedometer/Odometer/Trip meter were not working.
I noticed the shocks were a little bouncy.
When I drove it in July- rainy season- Mud splashed all over the place.
So with 6 months time---
I searched Ebay.
bought
4 center caps- used. But a little Brasso- shined up the chrome.
used dash cluster.
bumper to body brackets. (used- but seller repainted).
New Old stock- Gabriel heavy duty shocks- boxed in Car Quest boxes. ($66 for all 4)
Used OEM mud flaps
Also took 4 oil filters and 1 air filter. (wal mart)
24 new lug nuts (with special washers for caps-) from Pep Boys online- where I used online code to get a nice $27 discount.
also took a jack, Craftsman tool set, one of those X lug nut removers..
At the border crossing- Mexican Customs informed me that I had to pay a 16% tax in automotive repair parts.
I told them it was all used- junk yard parts.
She asked how much I paid---- I was thinking about how much.....
she then said---- you think you paid about $100 for the parts... I said yeah-- lets say $100.
Thats what she wrote down--- I went inside and paid the the import tax... $16 USD.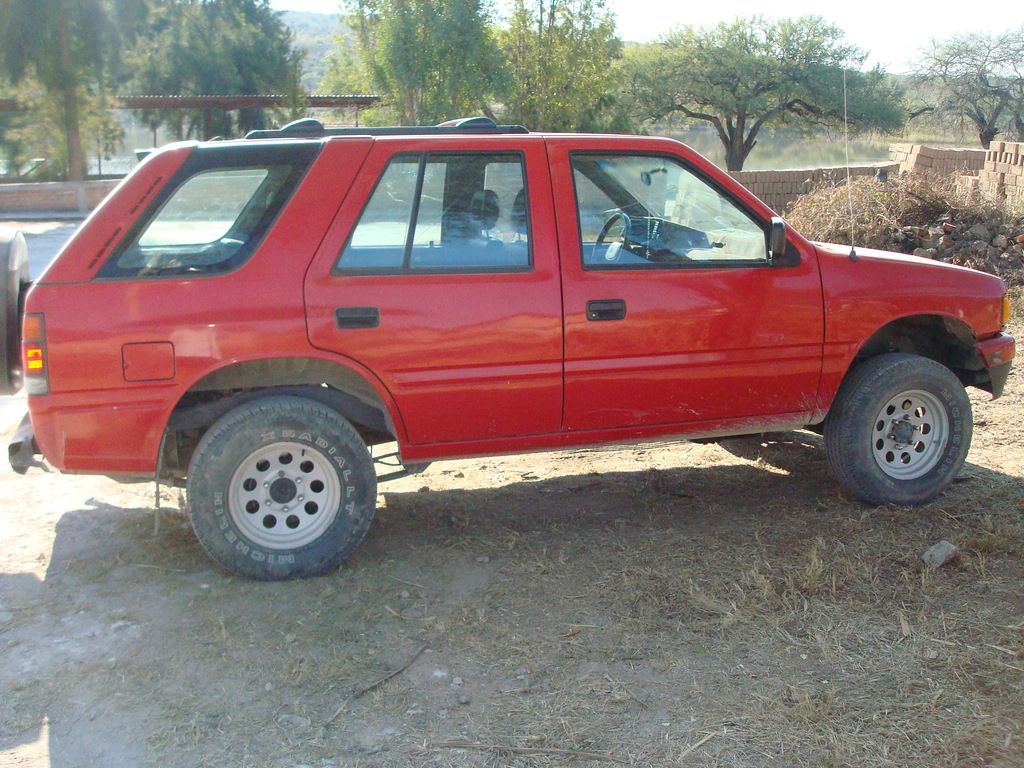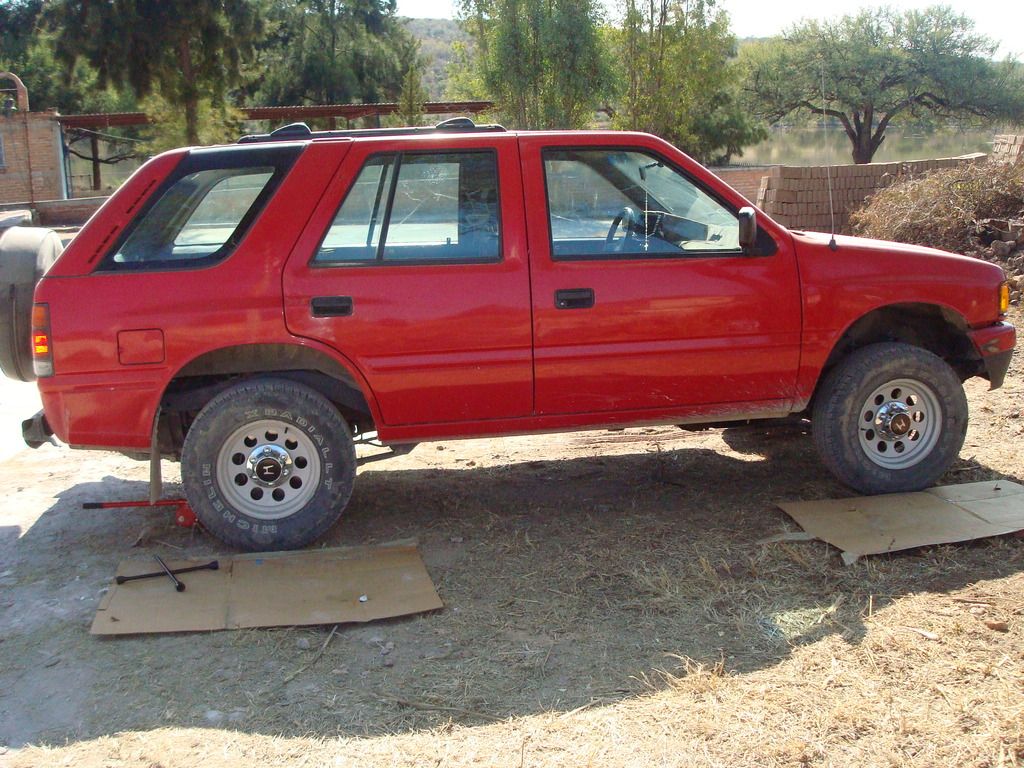 the old cluster said 150,xxx
the new ebay cluster was 199,xxx
Mileage didnt matter.. No idea how many miles on the engine.... as long as I know how fast im going-- and registered mileage traveled (for oil change intervals)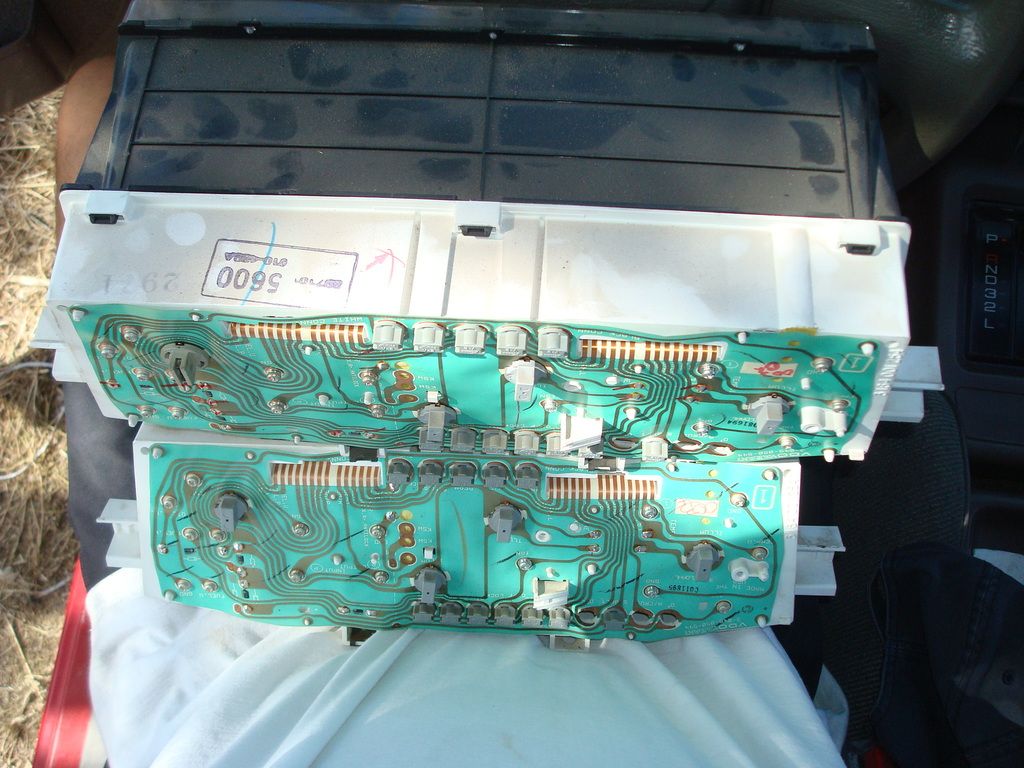 the old door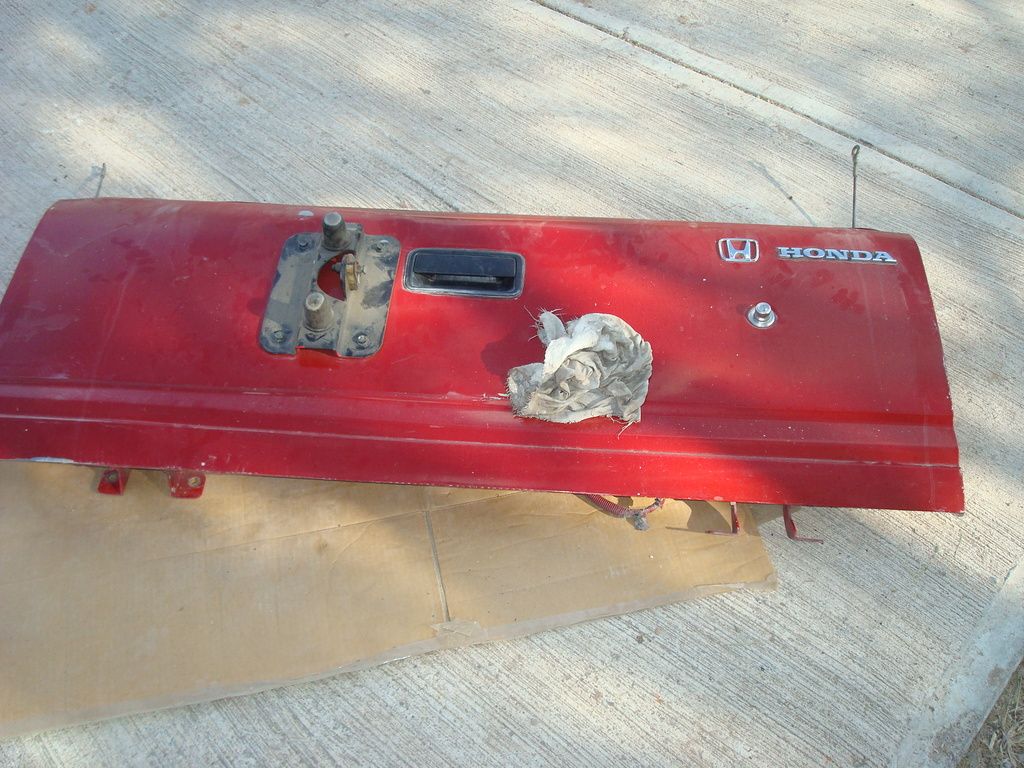 the new
yup- old brackets were tweaked--- and had signs of being hamered to straighten them out.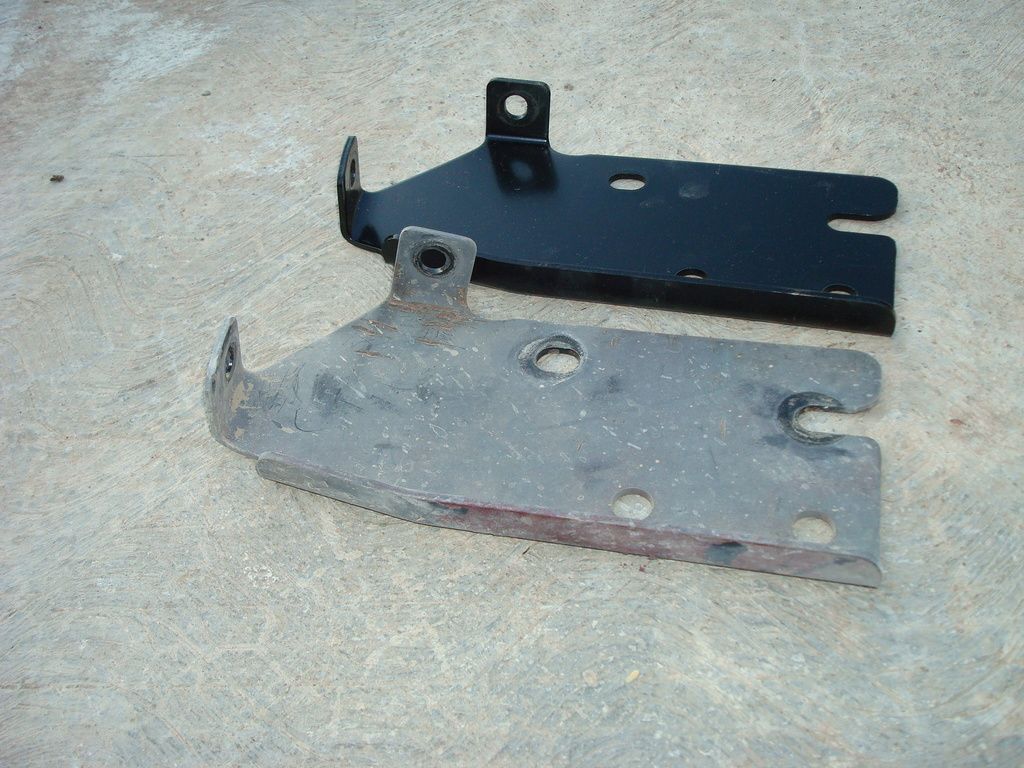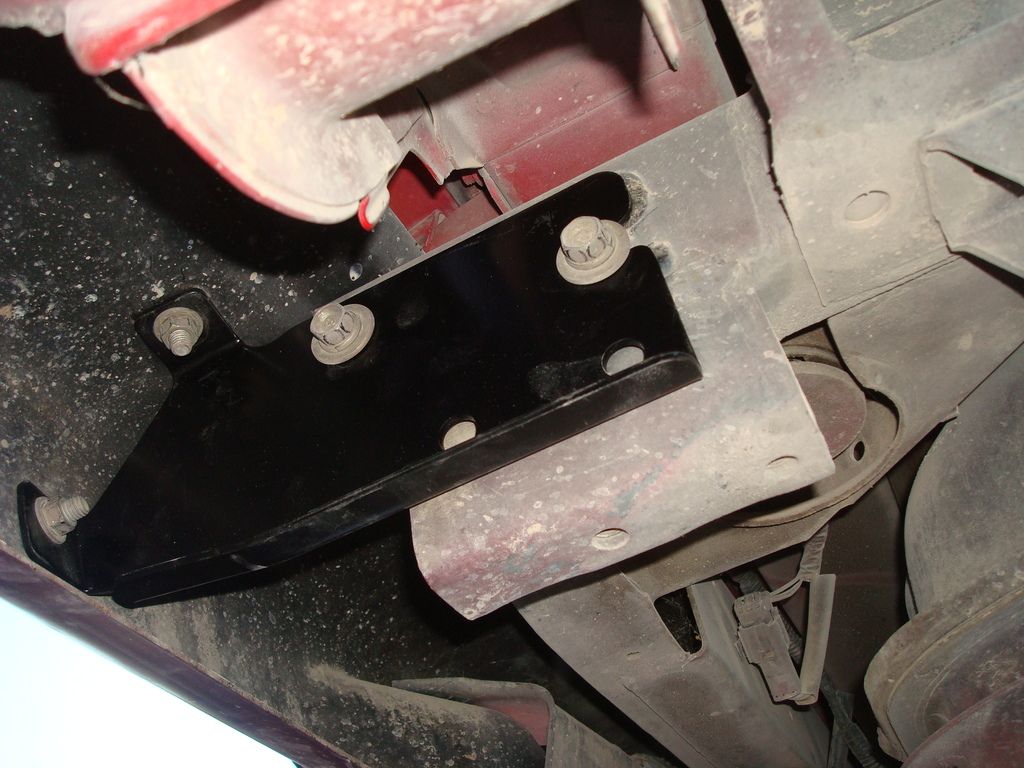 I did not have jack stands.... so I did not want to get under the car with only the jack...
So I took it into town-- and had a shop change out the rears...
They charged $100 pesos..... or $5 USD to change out 2 rear shocks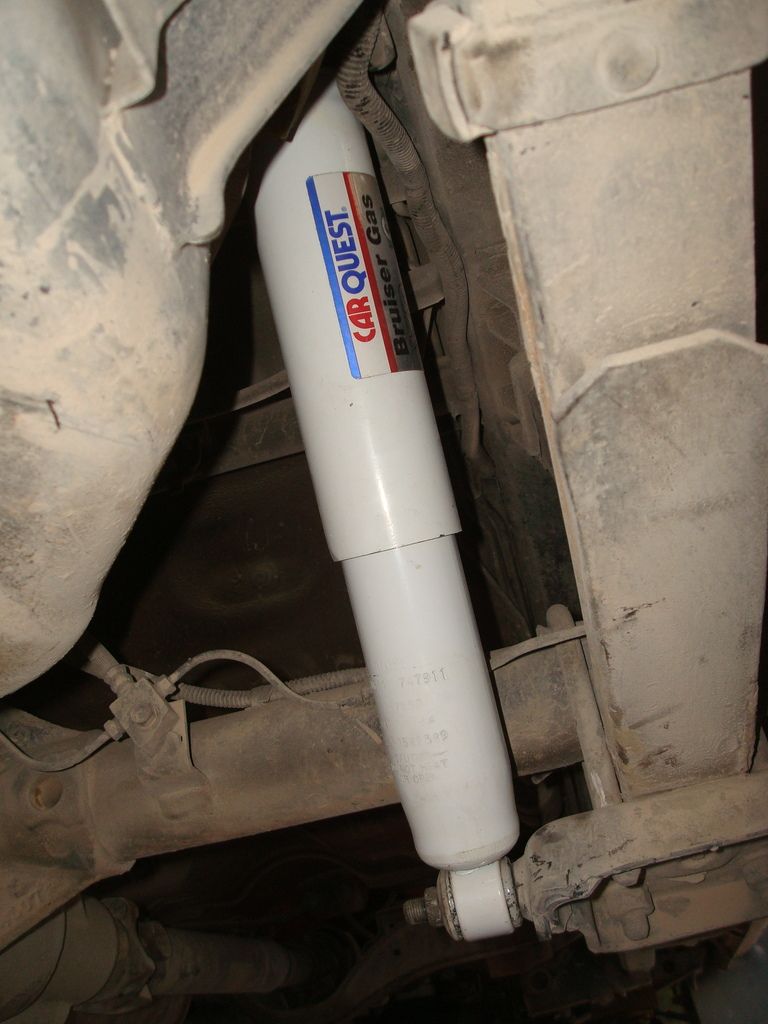 The new shocks-- really made a difference. Especially on the dirt roads.
Vehicle to me looks better with the caps.
Mud guards.. should help in the rainy season.
The new door- is much better.
I can now tell how fast im going. Also changed out the shifters burned out bulb, 1 bulb on the new cluster, overhead bulb and side marker.
rear bumper is now a little better.
I also removed old window tint-- that was horrible.....
and-- last but not least... also changed out the oil and filter. (the oil that went in- was actually RED... never seen that before.)
I thought-- **** trans fluid....
smelled it--- not trans fluid.
5 qt jug and 1 qt bottle--- both red... and sealed with foil.
so I used it.
I looked it up on the Mexican Quaker state web site - and Quaker state 20W-50 'racing oil' does show up as RED in color on the Materials Safety data sheet....
-------------------------------------------
Fuel Shortage in Mexico-
Mexicos PEMEX- govt run oil company had a monopoly on oil/fuel in Mexico.
Gas prices have always been 1 price all over the country- (except border regions).
Govt announced that on Jan 1... prices on fuel would increase by 20%.
Gas for 2017 is now roughly the equivalent to $2.90- $3.00 per gal.
Several things happened.
Increased in fuel use due to holiday travel.
Increased fuel use by US foreign visitors traveling into Mexico.
Logistical issues with fuel delivery.
Some speculate that PEMEX held back on supply to cash in on increased price.
People started to fill up gas containers --- stockpile/horde fuel.
Next thing you know--- places were out of fuel.
There are now about 97 different pricing regions in the country- based on distance to refinery/depots.
on the return trip- we did encounter some road blockages due to protest.
Didnt see anything bad- but some toll roads were closed- and we had to wait a bit.
image I found online-- of what I saw.... several times-- had to drive 20 miles out of my way- to find a station with gas.... and only Super was available.
------------------------------------------------
Traverse was loaded as shown in pics.
2 adults, 2 kids, 1 large German Shepherd.
DIC-MPG
25 MPG headed there. (I followed my Father in law--- he lead the entire way... and I drove at his speed).
24.3 MPG return- without load, we drove faster, (father in law returned 1 day earlier)
total trip time to get there 46:30 min... this includes all stops.
total trip time to get back 39:00
The only vehicle issue we had- was on the return trip- about 200 miles from home--- I felt a stumble- and the CEL began to flash. Only flashed for about 3 seconds. But I know that means-- stop driving--- But didnt even get a chance to make a lane change- as the flashing stopped.
Rest of trip the vehicle ran fine. Never set the CEL (lit).
When I scanned it- it showed 2 PENDING codes.....P0089 and P0305. with Cyl 5 showing 52 misfires.
(the Pending codes are now gone- and cyl 5 shows no misfires)
I figured I got some moisture/water in my fuel from those almost empty gas stations...
?
Ill keep an eye on it-- but performance wise MPGs were great.
I did add a bottle of HEET and filled up the tank.
The traverse and the Passport at a roadside restaurant- food was quite good.......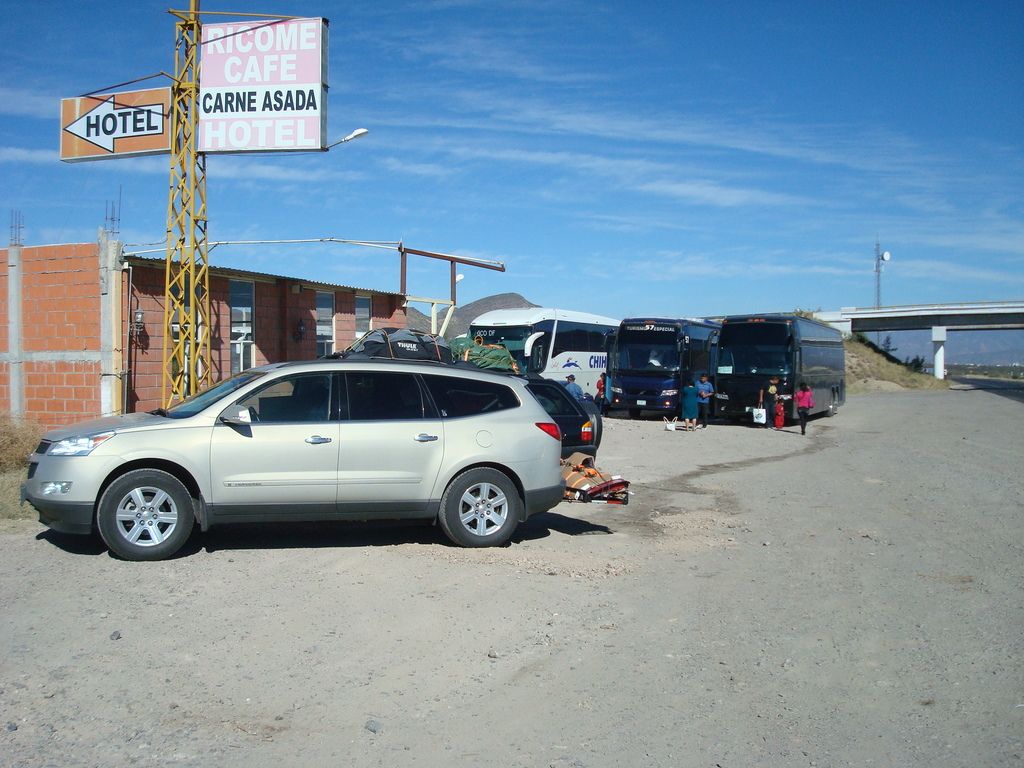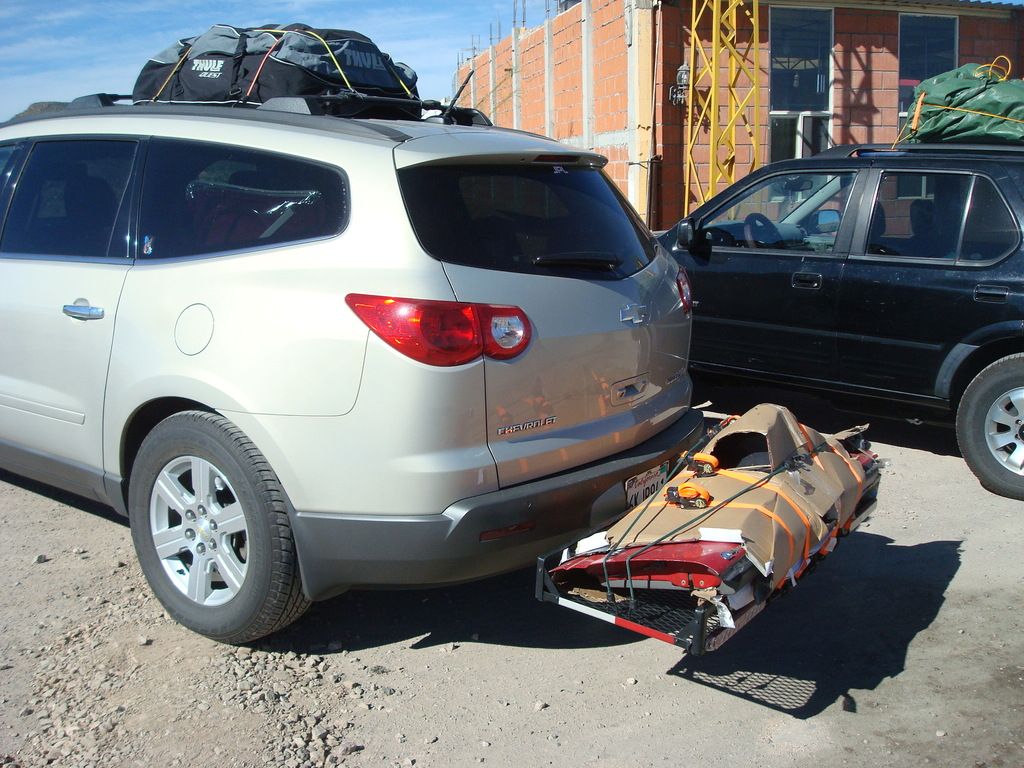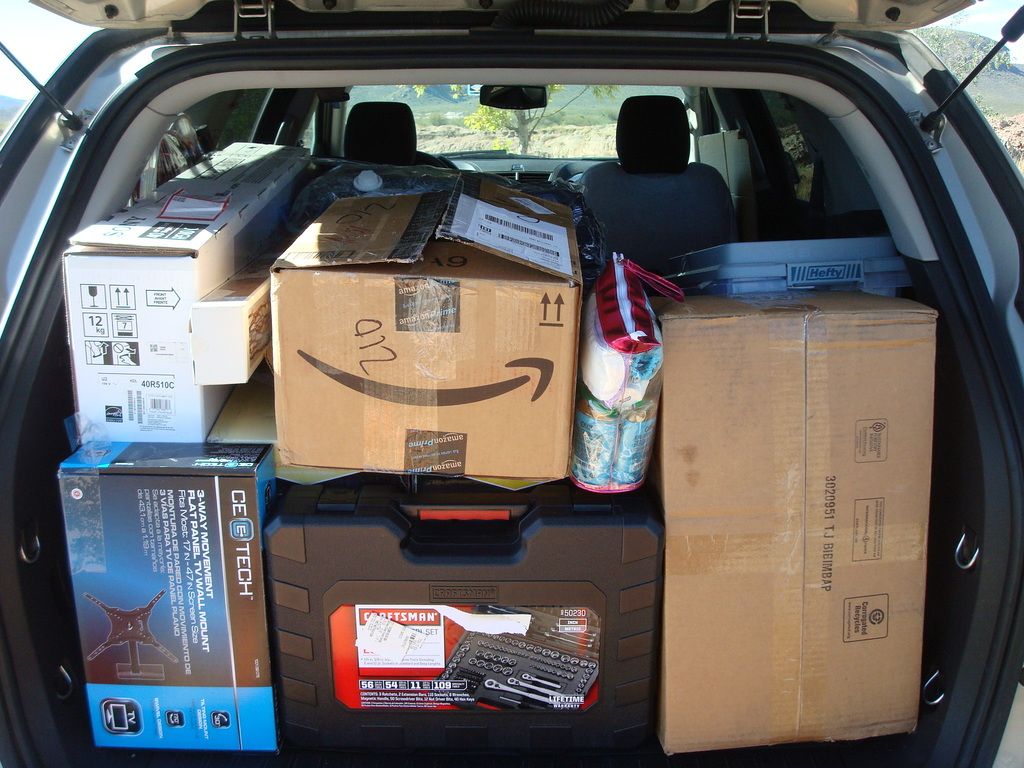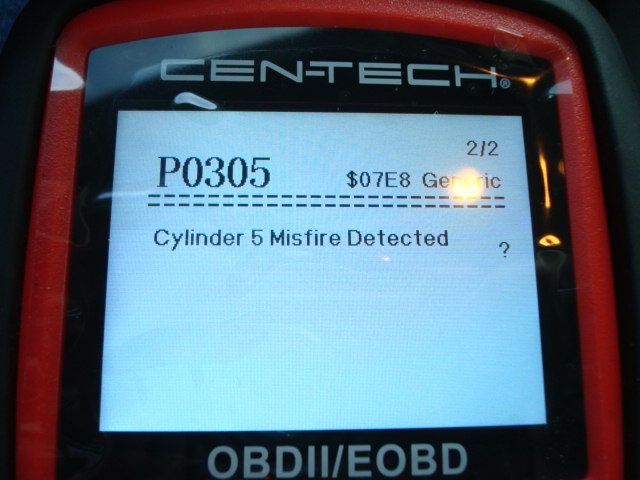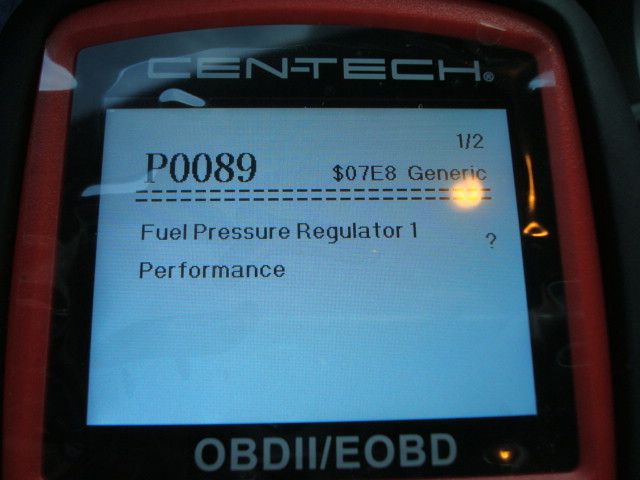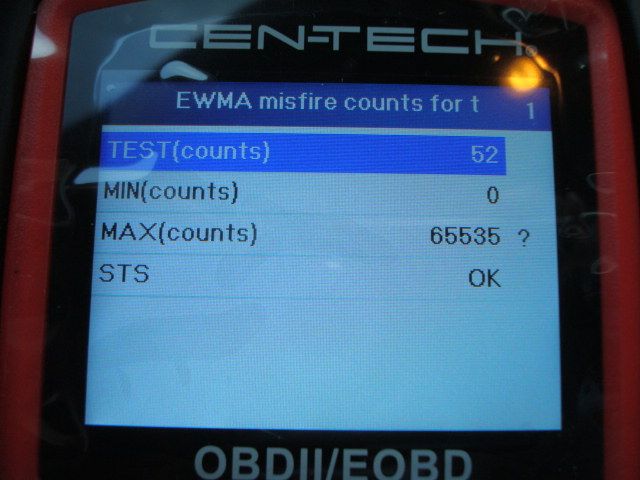 -------------------------------------------------------------
Scorpion Hunting-
Scorpion Country......
So I bought UV flashlights- and yellow UV filtering glasses.
We did indeed find 3 scorpions right away.
1 near the Honda Passport.
1 by the rear bumper of the Traverse (parked in driveway)
1 by the rear door in a box.
They do indeed glow under UV lamps.
these are the 3 we found...
my kids like going out in the evenings---- Scorpion hunting.
We easily found them. Up to 7 one night- in a short diameter around the house.
here is one we found with the UV lamp.,,,
with regular light---- hidden in pine needles
here it is with the UV lamp only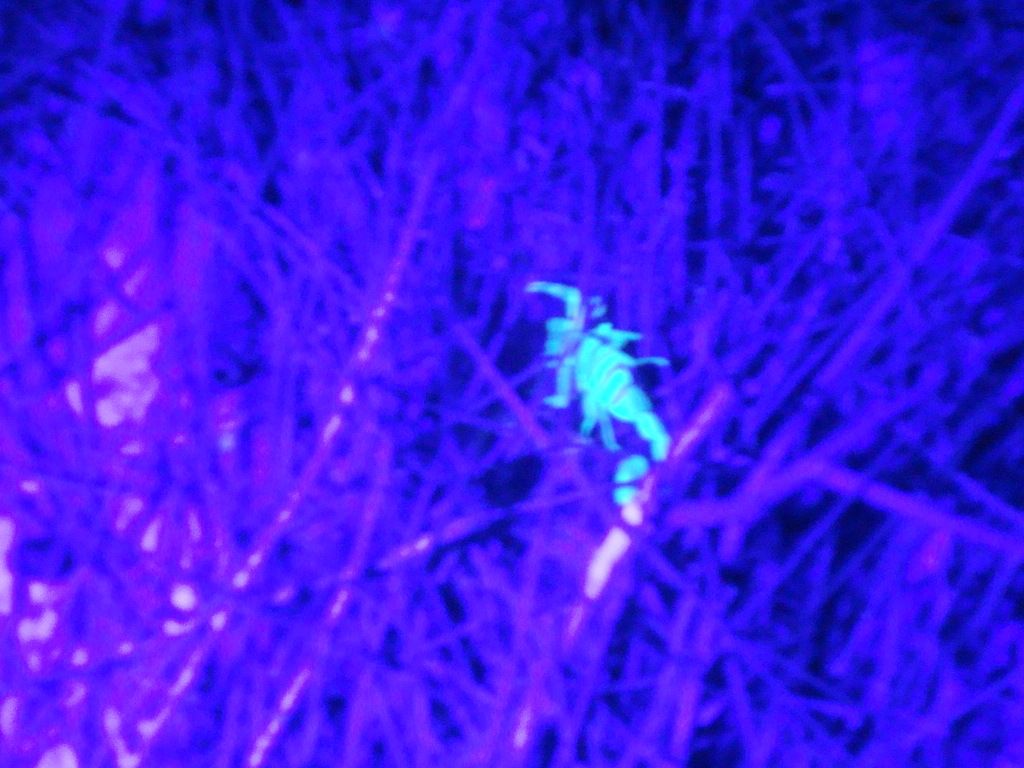 here it is with the UV lamp... and the yellow filtering glasses held in front of the camera..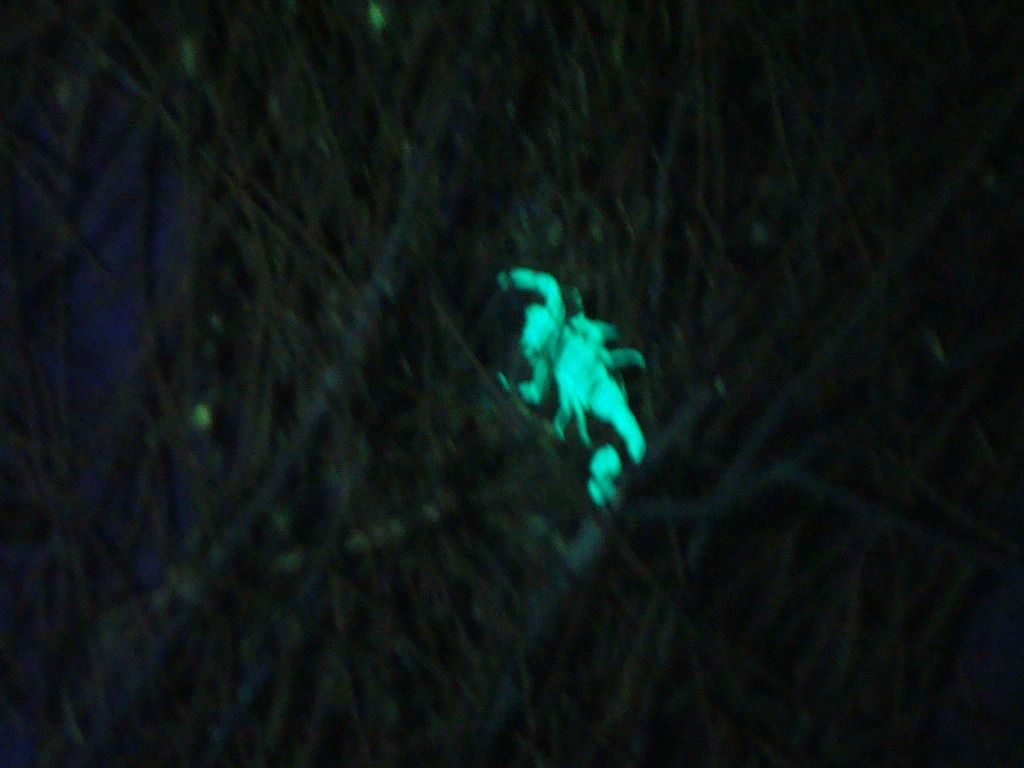 --------------------------------------------
Texas-
I had 8 bottles of Mezcal. (similar to Tequila).
Upon Border entry declared them.
They had me pull into a separate lane to pay Texas Alcohol Taxes.
They physically wanted to see the bottles- and to affix a decal that says I Paid taxes.
$28 USD.
The bottles fit perfectly in the storage bin.
I dont drink- but these are all gifts....
We went to the distillery that he owned (deceased) but still in the family.
He was raised in the same area as my dad---- so a native son I guess.
But the gifts are a little more meaningful when its locally produced and made... vs buying it at some store.
the man on the bottle, famous Mexican folk singer and actor.
He can be seen acting along with John Wayne and Rock Hudson in 'The Undefeated'.
---
2010 FWD LT1-Gold Mist Metallic- seats 8.
Build Date- July 31, 2009-2nd day of Spring Hill 2010 production.
2013 Equinox 3.6L - 60,000
2010 Traverse 3.6L- 128,000
2003 Trailblazer 4.2L-180,000
Currently Active Users Viewing This Thread: 1

(0 members and 1 guests)